The team at AqualisBraemar LOC Group (ABL Group) shares the passion, vision and values for working in energy and the world's oceans, de-risking and driving the energy transition. We are driven by the idea that the best work is born from professionalism, diligence… and fun. You know ABL Group, but do you know our team?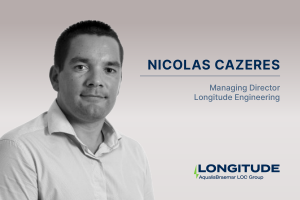 Nicolas Cazeres, USA Managing Director | Longitude
What do you do at Longitude?
I was Managing Director for Longitude Singapore for 7 years. Following this, I recently relocated to Boston to take up the role of Managing Director of Longitude's operations in the USA. My role is to assist clients in marine consulting studies to support them in finding the best technical solutions for their projects in the energy sector, both in renewables and oil & gas. I work closely with clients in building a project team comprising the most relevant multi-disciplinary expertise across the wider ABL Group, tailored to meet that client's specific project requirements.
Over the past 7 years, I oversaw the transition and diversification of our Asia Pacific engineering, analysis and design services from oil & gas to renewables. My objective now is to develop our services in the USA to support the local market's growing marine renewables sector, with a particular focus on the rapidly growing Offshore Wind activities in the North East.
What excites you the most about our industry?
What excites me the most is to see that our day-to-day work has a direct impact on our world of tomorrow.
What made you join Longitude?
The nature of our work is very diverse and every single day comes with a new technical challenge. Since joining  Longitude and the wider ABL Group, I have worked on a huge range of different projects across the marine space, including on a naval platform, energy floater, cable ship, plastic recovery concept and offshore wind renewable projects – to name a few. There are not many companies, which specialise in such a widespread service offering, and this diversity is extremely stimulating for a naval architect.
What do you do when you are not working?
I spend most of my time with me family. We are extremely lucky to have been living overseas for the past 8 years and we like exploring new cultures and horizons. However we always end up somehow close to the ocean, that might well be thanks to my naval architect DNA!