Close
Welcome to ABL Group
ABL Group is a leading global independent provider of energy, marine and engineering consultancy solutions working in energy and oceans to de-risk and drive sustainability across renewables, maritime and oil and gas sectors. Based in more than 300 locations worldwide, ABL Group consists of the following companies.
Computational Fluid Dynamics
Longitude Engineering has extensive experience covering fluid flow problems and the use of turbulence-resolving modelling approaches for various physical and application areas. Our specialists have been working across all industries with special focus in the marine, energy and other offshore sectors.
Custom developed Tools and dedicated in-house services
We develop and use the open source OpenFOAM® CFD Toolbox on our dedicated in-house multiprocessor CFD computer and utilise cloud computing services for quick processing of results. The applications of Computational Fluid Dynamics (CFD) are many and varied, however some specific applications are outlined below.

Aerodynamics
Aerodynamics modelling allows us to understand the air flow around marine vehicles or offshore structures for design improvement as well as efficient operation. Our scope of work covers all aspects of aerodynamic analysis relating to the marine vehicle or offshore structure including flight-deck turbulence and wind loads. Using turbulence-resolving modelling approaches such as Large Eddy Simulation (LES) or Detached Eddy Simulation (DES) gives us some idea about the boundary layer profile,  velocity and pressure distribution around the vehicle or structure including forces and moments, which helps us to optimize the design and improve aerodynamic efficiency.
Typical analysis type include:
Flight-deck turbulence computations
Exhaust gas plume studies
Aerodynamic performance of Blades
Vortex induced vibrations
Wind turbine loadings due to large-scale turbulence
Hydrodynamics
CFD allows us to analyse, understand and improve flow around ship hulls, propulsors, rudders and energy saving devices. Our CFD code is continuously validated with both model and ship-scale measurements and can predict with high level of accuracy resistance and propulsive performance in both calm water and various sea conditions resulting in a fast turnaround time in the design phase.
Typical analysis types include:
Resistance and powering calculations
Wake flows and appendage alignments
CFD based derivatives for manoeuvring prediction
Tugs and tow force analysis
Hull-propeller-rudder interaction
Hull optimisation
Thermal Analysis
Our typical analysis types include:
Optimisation of electronics package cooling
Printed circuit board designs
Heat exchanger design and analysis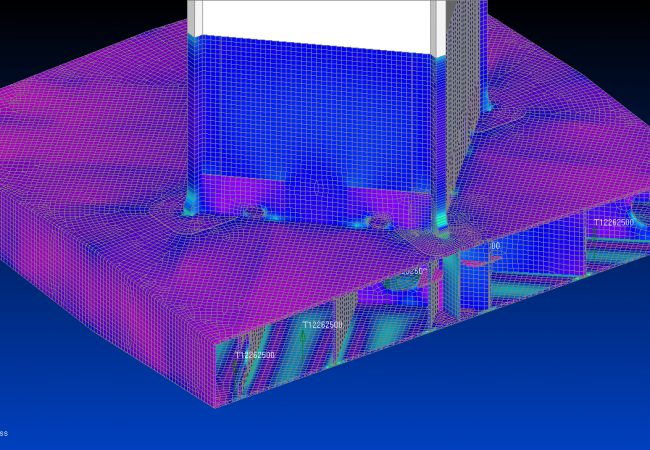 The Spudcan structure on an accommodation jack-up was showing regular through thickness cracks at the leg/can interface and requiring expensive repair and replacement operations at every dry-dock. Longitude was requested…

Longitude were contracted by Osprey Shipping to undertake the engineering for the transportation of the offshore wind farm substation topsides from the fabrication yard to site. The first tasks were…