Longitude was contracted by MRTS to provide design engineering for the sea fastening of JASCON 18 's Stinger sections and Crane Masthead for transportation onboard the same vessel.
Facts and Figures:
145m, 1250tons length outfitted Stinger, in 3 sections
410tons for heaviest stinger section to sea-fasten
150tons masthead, with VCG of 11m
Unrestricted sea design criteria
No welded interface with the equipment, allowing multiple uses and avoiding equipment damages from grillage and sea-fastening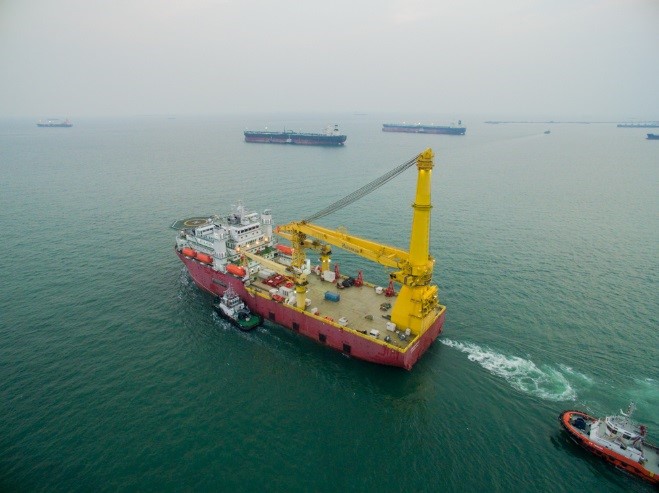 Longitude's Scope of Work
The challenges involved in this project included determining the optimum stowage plan, considering the size and dimensions of the cargo, structural arrangement and limited deck space. In addition, as the grillage arrangement needed to be reusable, a non-welded interface solution was to be developed.
The engineering scope included naval architecture and structural engineering for the transportation.
The inertia force due to vessel motion induced accelerations was calculated based on vessel motions as specified in GL Noble Denton criteria for unrestricted conditions.
The stinger primary steel structure and reaction forces were computed using STAAD.Pro FE software, structural adequacy was checked versus AISC Allowable Stress Design code. The grillage stools were designed and modeled using FEMAP FE software. Analysis was performed in compliance with AISC ASD code.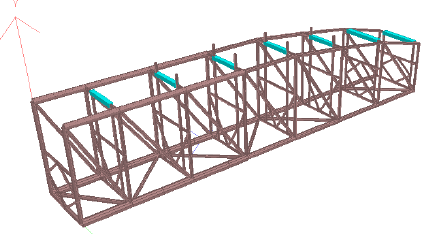 The Vessel underdeck structure was also verified to ensure that the load could be transferred without requiring extra reinforcements. Verifications were carried out using a combination of spreadsheets and STAAD.Pro models.
Grillage fabrications drawings, sea-fastening details and Stowage Plan have been delivered to the Client.