Longitude were instructed by LS Cables & Systems (LSCS) to support them for the installation analysis and procedures for 2 HVAC power cables systems in South East Asia.
Longitude worked with LSCS, and several other interested parties such as the Marine Warranty Surveyor (MWS) and Power Grid Owners to determine the installation methodology supported with engineering analysis followed by a a detailed procedure for client and Marine Warranty Surveyor (MWS) approval. Due to the number of cables in close proximity, time constraints and installation vessel limitations, Longitude, together with the installation contractor and LSCS, developed an innovative installation procedure to ensure the success of the project.
Project Overview
The interconnector will connect two major power grids using submarine cables.  This project was initiated to solve the problem of power failure in some sections of the existing submarine cables installed in the same area and has been designed to better handle power loads thus reducing the risk of failures.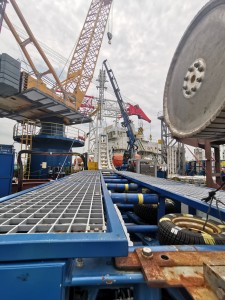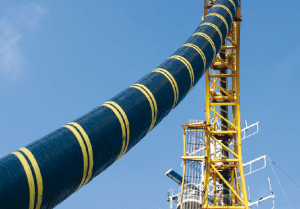 Longitude's Scope of Work
TOWING ANALYSIS AND PROCEDURES
Longitude acted alongside the project owners, LSCS, from the very beginning of the project by determining the towing route for cable lay barge movement to site and creating the towing procedures for MWS and Client Approval.
SHORE LANDING STRUCTURES – GEOTECHNICAL ANALYSIS
Due to the complex shore approach, landing structures were designed to allow for cable spacing and alignment. Longitude carried out the geotechnical stability assessment to ensure the structures will be suitable for the installation.
SHORE PULL-IN INSTALLATION ANALYSIS AND PROCEDURES
Thanks to Longitude's knowledge in offshore operations and cable installations an innovative second end landing was developed with the barge relocation on landing area to suite the project constraints. This was a challenging operation to plan, computationally model and determine in the procedures to ensure safety and cable integrity.
The scope included the development of cable landing approach and relevant procedures together with the development of mobilisation procedures for both sites to ensure suitable equipment is mobilised.
Complete dynamic analysis to determine forces during pull-in were carried out to determine the operation's limits and the number and size of supports needed.
The analysis also allowed to assess the floater and determine the minimum spacing required for the operation
Cable landings rigging were also developed for over-boarding and pulling
Shore landing support structures installed on the cable ramps were developed to ensure straight landing of cables
Industry standard software OrcaFlex was used for all installation analyses combined with automation scripts and bespoke tools developed exclusively by Longitude to guarantee the project timelines deliverables.
INSTALLATION ANALYSIS AND PROCEDURES
 Due to the complex cable installation layout the analysis included the cable installation sequencing review and impact assessment. This was discussed with client and installation contractor to ensure safety of installation.
Deck layouts and equipment was reviewed based on operational and analysis requirements
The barge used a 4-point mooring system with thrusters' support. Longitude developed a full skidding mooring plan for operation and both shore landings. This was also revised further to initial anchor handling trials.
Pre-set anchors design and discussion with components suppliers were held due to the lack of soil holding capacity near one of the shore ends.
The analysis included also the development and analysis of mooring floating catenary design to avoid several subsea obstacles
Complex mooring operations procedures including thruster assisted mooring with the use of two thrusters
Analysis and procedures for simultaneous lay and burial of several power cables using vertical injector were also carried out
Cable abandonment and recovery procedures
Development of storyboards for all the operation including landings and installation
HAZID and HAZOP participation for all operation
Planning meetings with client to determine schedule of operation and concurrent operations

ENGINEERING SUPPORT
 The project timeline was very short due to delay in critical structures construction. LSCS relied on Longitude to deliver in a very short timeframe the full installation engineering scope.
To achieve this Longitude dedicated team of experienced engineers, based in Singapore, on hand to support throughout the project.
Additionally, Longitude also provided 24hrs support by utilising offices in different time zones and 7days a week work progress to match project deadlines
During the project Longitude was capable of dynamic adaptation to changing project requirements for re-analysis and procedures adaptation thanks to in depth knowledge in cable installation.
The high level of flexibility was aided by parametric modelling and automation procedures implemented by Longitude meaning changes to original plans could be implemented with limited additional time and cost.
Project Results
Overall the project confirmed Longitude's vast knowledge in cable installation by providing procedures for both the shore landings and the complicated simultaneous lay and burial operation with vertical injector.
The project was handled from Longitude Singapore by successfully transferring the knowledge from the offshore cable installation developed in Europe to the South East Asian hub. Through integrated client team support, adaptive analysis and global support Longitude was able to deliver the complete installation engineering package in record time to ensure the safe and successful installation of the 8 submarine power cables.
Client's Testimonial:
"Good and satisfied with your reactions and rapid outcomes against our requests in short time notice, limited time periods, real time basis, frequent changes ( situation, approaching methods, conditions in considerations, procedures, different clients' different requests) with your in depth knowledges and capabilities, continuous supports by your team and co-working with specialists in other offices in different time zone."